the Half Day Cafe
Our Patio & Interior are Now Open! Call For A Reservation: 415-459-0291
Reservation Requirements: 5+ party size, 24 hours notice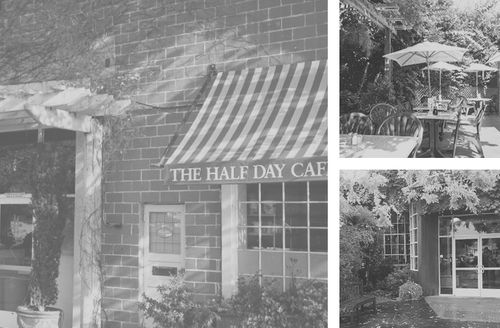 about us
Our building was built in the 1930's to house Kentfield Garage. Later it became an antique store and after that it became a real estate office. We like to think The Half Day Cafe is the best incarnation yet!
Everything at Half Day Cafe is Scratch made, we work to provide healthy and delicious items that can fit almost anyone's dietary needs! With an ambiance as relaxing and comforting as ours you will never want to brunch anywhere else!
The Half Day Cafe is located on College Avenue in Kentfield across the street from the College of Marin. From Highway 101, take Sir Francis Drake Blvd. going west for about 3 miles. Turn left at the stoplight at College Avenue (the Kentfield Fire Station will be on your right). We are located halfway down the block on the left side. There is a large parking lot behind the restaurant.
Contact Us Today
Fill out the form and we will get back to you shortly!